CYCLING ON THE ROADS OF THE GIRO D'ITALIA AND THE TOUR DE FRANCE
The magic of cycling on the roads of the Giro d'Italia and the Tour de France: the heart of the Maritime Alps. Participate in one of the longest-running Granfondos in Italy and Europe. Experience the bicycle together with other enthusiasts, on a day of celebration, where everyone wears the same jersey. Challenge yourself and your limits on the climb that leads to Colle Fauniera and on the other peaks of the route. More than 2500 meters in altitude for the Mediofondo and over 4000 meters for the Granfondo. These are just some of the reasons to participate in the 30th edition of GF La Fausto Coppi.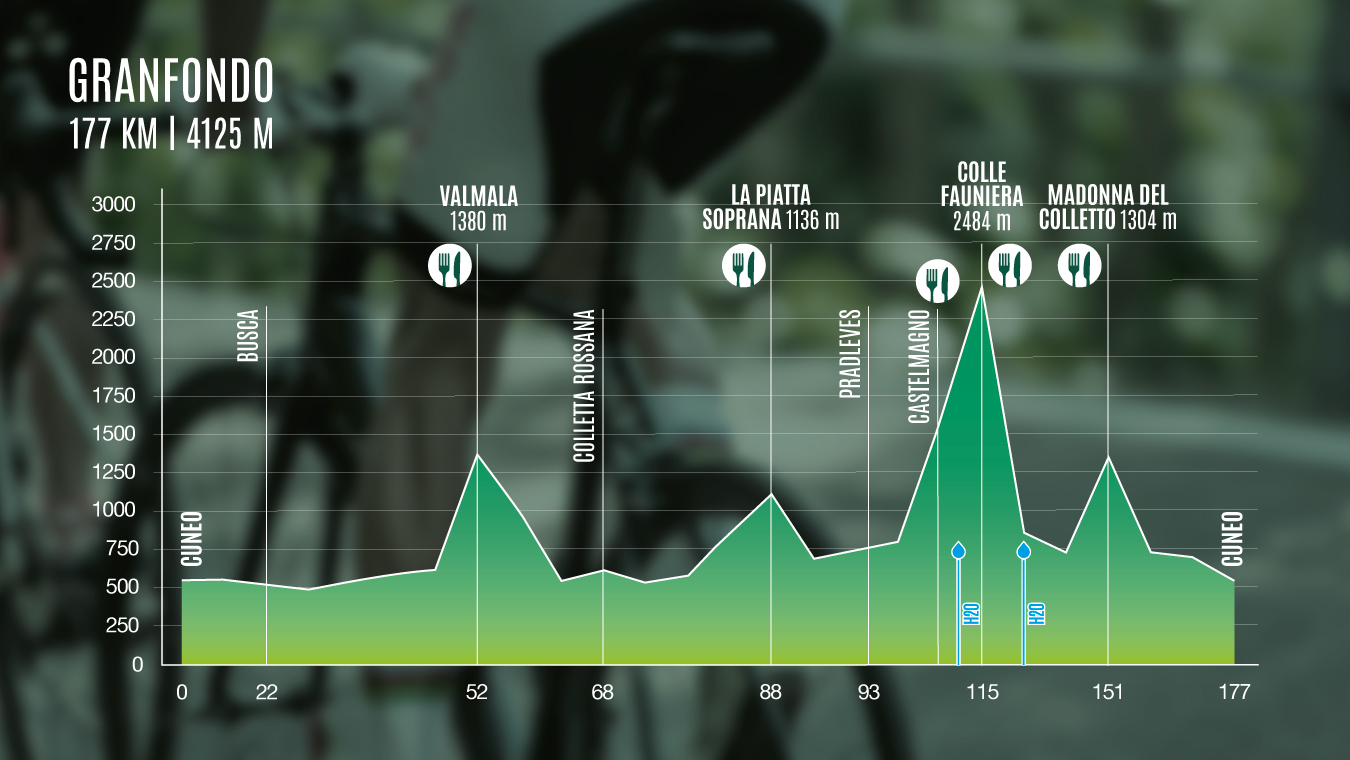 GRANFONDO
THE GRANFONDO
THE ROUTE AND ALTITUDE OF THE GRANFONDO
177 km for more than 4000 meters in altitude: there are not many Granfondos in Italy that are so hard and difficult. The route of the Granfondo splits from that of the Mediofondo already at the gates of Cuneo. After having crossed the Soleri viaduct, turn towards Busca. After 30 km on the flat, the first climb of the day takes place, the one that leads to the sanctuary of Valmala (1,380 m) in Valle Varaita. Just enough time to catch your breath and, having passed Dronero, with the passage on the Devil's bridge, it's already time to tackle the second climb of the day. A 10 km climb towards Piatta Soprana and Valle Grana with peaks at 14% for about 10 km. After descending into Valle Grana, the Granfondo route rejoins that of the Mediofondo: the great difficulties of the queen climb of the competition await: Colle Fauniera. The route continues as described in the Mediofondo, to return to Cuneo, towards the finish line.
Documents to download:
MEDIOFONDO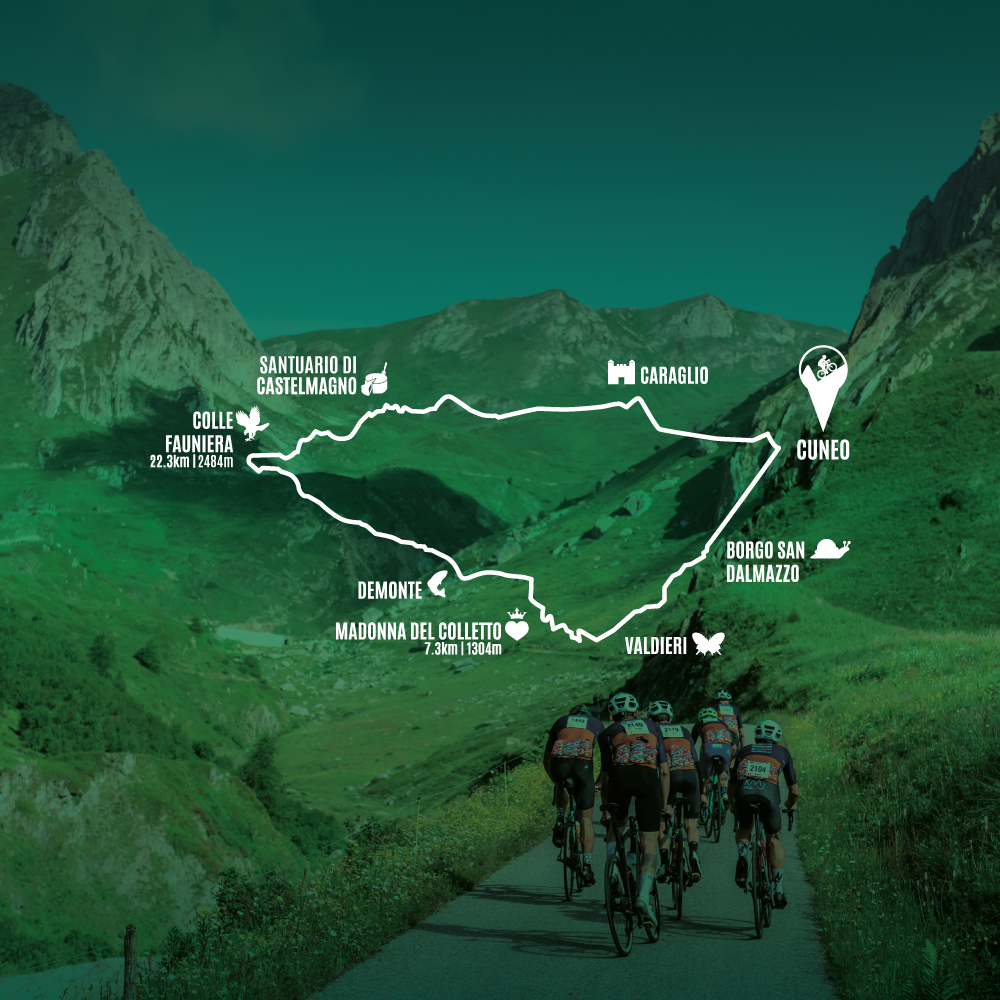 THE MEDIOFONDO
THE ROUTE AND ALTITUDE OF THE MEDIOFONDO
111 km for more than 2500 meters in altitude. The route starts from Cuneo, in Piazza Galimberti and heads towards Valle Grana, passing through Caraglio. After 20 km from the start, the most important climb of the race begins, the 22 km of Colle Fauniera (2,484 m). At the top, the majestic landscape soon gives way to a long descent, which leads to Demonte, in Valle Stura, a few km away from the second and last climb of the route, the one towards Madonna del Colletto (1,304 m). The subsequent descent leads to Valle Gesso in Valdieri and from here to Borgo San Dalmazzo, to return to Cuneo, towards the finish line.
Documents to download:
Les inscriptions au Granfondo 2024 ouvrent le 1er juillet
Inscrivez-vous